Solid/Liquid Separation
For any filtration or separation needs or challenges you may have, we can provide the precisely correct equipment and solutions to meet them. With years of experience with market-leading brands, we offer the widest range of filtration and separation equipment to customers and industries in the Baltic Sea area. And, to determine the best equipment to use for your particular task, we also offer lab trial and pilot-scale testing for product development.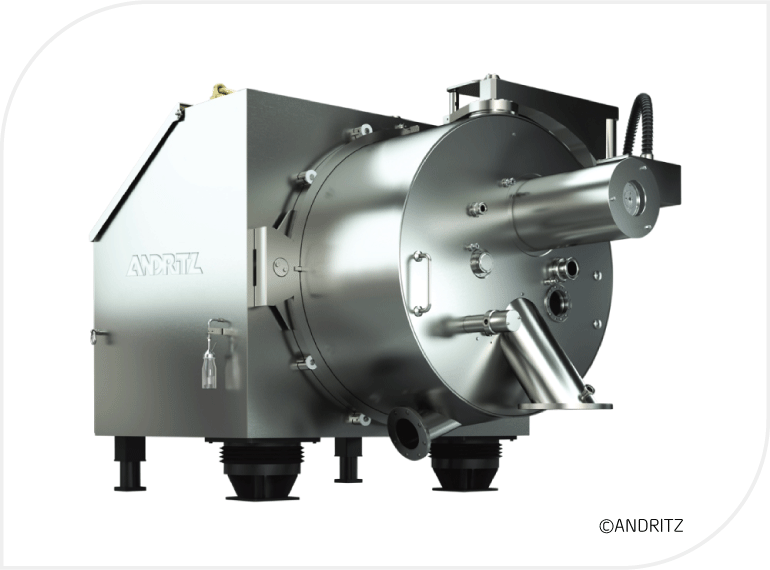 FILTER PRESSES
Simple, easy to run separation equipment delivering the highest dry solids content. Filter presses are low-maintenance equipment and can be used almost anywhere. Widely applied in wastewater treatment, chemicals, and mining, among other industries.
PEELER CENTRIFUGES, FOR BATCH PRODUCTION OF FINE CHEMICALS
Energy-efficient and simple operation, resulting in the lowest residual moisture thanks to high G forces. Can be customized for any product needs, depending on retention time and filter cloth applied. Highly suited for API and vitamin manufacturing.
PUSHER CENTRIFUGES, FOR CONTINUOUS PRODUCTION OF BASE CHEMICALS
For higher volumes, continuous dewatering using a pusher centrifuge may be the best solution. These give efficient washing with minimized particle breakdown, in a lower maintenance operation. Ideal for bulk & agricultural chemicals, plastics, foodstuffs, etc.
Nutsche type filter dryers
If you have any questions please don`t hesitate to contact Thurne specialist directly: