Milling and Sieving
We can provide granulation, milling, and separation machinery that efficiently and safely handles dangerous, difficult and valuable powder processing tasks. Quantities can range from lab scale of just a few grams to production scale of kilograms or even tons per hour. Materials handled include API powder, seeds, milk powder, cereals & grains, sugar, coffee, chocolate, etc.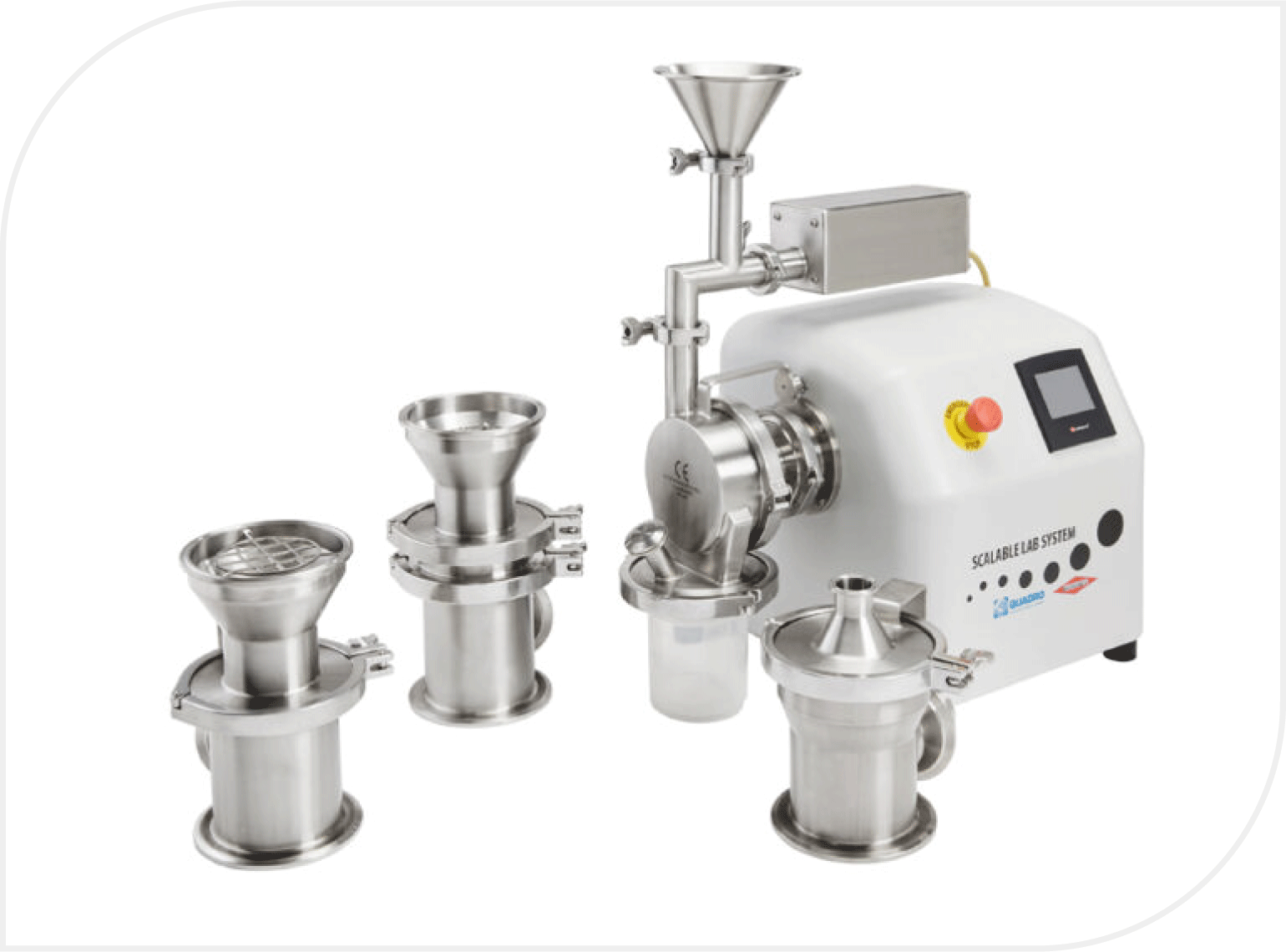 ROUND SEPARATOR
Sweco's Vibro-Energy separator is the original pioneer in high-performance, reliable separation of a wide variety of materials and powders. Besides superior separation efficiency and a simple design, it is also known for providing high safety as well as easy clean-up and maintenance. Particles as fine as 400 mesh (37 microns) can be screened, and up to 4 screen decks can be incorporated in one Sweco separator.
CONICAL MILL
Comil® is the original conical mill for high-quality milling and delumping to achieve a tight particle size distribution (PSD). The gentle grinding action of this cone mill produces less dust and heat than alternative forms of milling and delivers quick discharge of correctly sized particles with the desired tight PSDs. Conical milling is suitable for API, pharmaceutical, cosmetics, functional food, chemical or biotechnology applications. Generally used for reducing material to particle size as low as 180 microns (80 mesh) at D50.
MICRONIZATION MILL
MC DecJet® is the proven technology to give accurate and efficient micronization of powders, with excellent powder containment to comply with safety standards and current regulations. Scale can range from small tabletop, laboratory R&D quantities up to hundreds of kilograms per hour production rates. Ideal for milling pharma and cosmetic powders in the fine PSD range, typically below 100 microns down to 1 micron.
RECTANGULAR GYRATORY SIFTER
Sweco's Atlas Gyratory Sifter is a very versatile high-capacity, high-efficiency screen for applications in chemicals, food, plastics, agriculture, minerals, etc. The horizontal, uniform gyration motion delivers extremely sharp screening separations at high volumes. Features exceptional screen cleaning in low maintenance, operator-friendly design. Available in 33 configurations with up to 12 screens, with 3m² to 49m² of screening area, and 2-5 product fractions.
Deagglomeration and delumping
Powder mixing and scaling
Read more about POWDER MIXING AND SCALING products
If you have any questions please don`t hesitate to contact Thurne specialist directly: