Scalable filters for pharma, life science, biopharma, chemical, and F&B
Filters and Filtration
For customers in pharma, life science, biopharma, chemical, F&B and many other sectors, we supply a wide range of efficient and reliable Filters and Filtration Processes. This may include items such as cartridges, capsules and sheets for normal flow filtration (NFF) and tangential flow filtration (TFF), both for single use and non-single use, as well as depth filters and membrane filters. The scale ranges from small testing filters to large scale industrial filters, and we can support with full validation and documentation packages for pharma applications.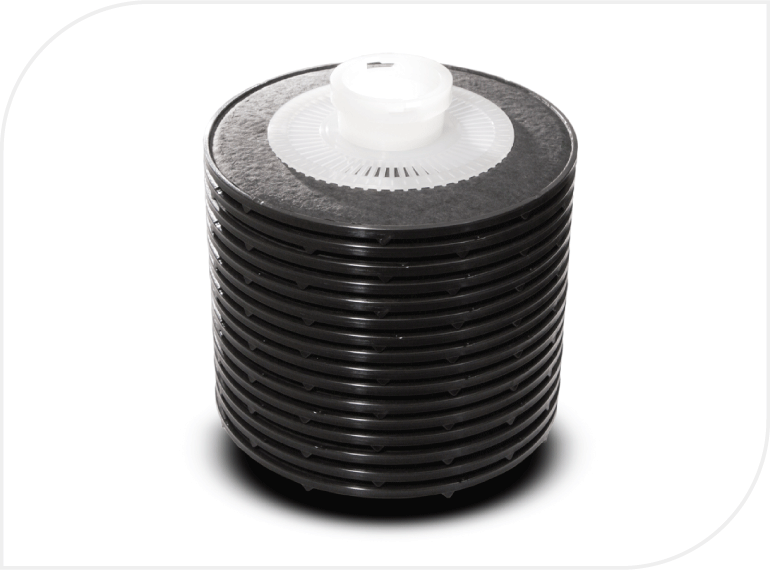 DEPTH FILTER
We can provide the first depth filter that takes advantage of alluvial filtration technology, specifically cake or precoat, in a disposable format. This removes particles like cells, bacteria, and yeast, as well as impurities such as HCP, DNA, and other turbid matter. This depth filter is now also available for single-use cell separation, and besides being fully scalable and disposable, it fulfills all validation requirements. Thus the step up from the method development stage into large-scale processes can be easily achieved due to proven linear scalability.
CARBON FILTRATION FOR FOOD OR ACTIVE PHARMA INGREDIENTS, API
Carbon filtration is required in a wide range of food and API applications, and we provide convenient and effective solutions which have the activated carbon incorporated in an immobilized form in the filter. This avoids the extra steps of mixing and fixing activated carbon on filter media. We also offer test kits allowing producers to run their own trials to decide which grade of activated carbon is the most suitable for your specific needs.
GAS/AIR FILTRATION IN LIFE SCIENCE
For life science applications requiring gas or air filtration, we can supply single-use capsules or cartridges in the filter housing. This includes sterilizing grade TETPOR Air and HT filters with PTFE Membrane that provide high flow rates, at low-pressure drops, for maximum efficiency and productivity. These are fully validated to the liquid and aerosol bacterial and viral aerosol challenges, as well as having the non-destructive integrity test data correlated to the liquid bacterial challenge.
Lenticular Disc Filtration
Tangential Flow Filtration
Process Filter Cartridges
Read more about PROCESS FILTER CARTRIGES products
Read more about COMPONENTS products
If you have any questions please don`t hesitate to contact Thurne specialist directly: