Specialized Components
We offer a wide range of high-performance components for processes such as corrosion and mechanical stress resistant piping solutions and bellows; static mixers for any application; and rupture discs to act as a compliment to safety valves in equipment and piping.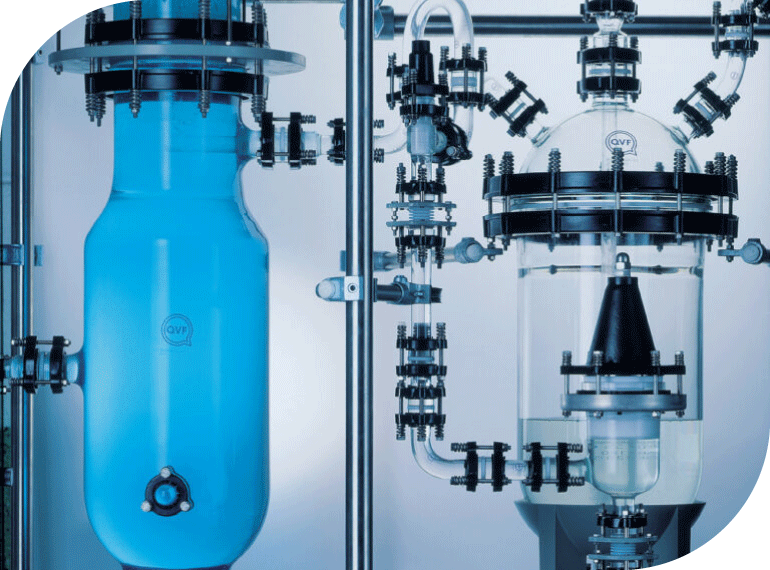 CORROSION RESISTANT PIPING
We can supply highly corrosion-resistant piping, including glass-lined, PTFE/PFA-lined, and borosilicate-lined piping. Glass-lined piping is cost-effective for designing corrosion, pressure, and vacuum resistant pipelines. PTFE/PFA-lined steel piping systems offer exceptional anti-corrosion features. Borosilicate-lined piping is transparent, corrosion-resistant, catalytically inert, and has a smooth and easily cleaned surface.
PTFE BELLOWS AND COMPENSATORS
PTFE bellows and compensators help remove mechanical stress on piping and equipment, and also make installation procedures easier. Bellows made of PTFE are excellent for use in any pipelines handling aggressive liquids or gases. Standard sizes are available in DN20-DN600 with various flanges.
STATIC MIXERS
Static mixers can be an excellent choice for mixing fluids and/or gases directly in the pipeline. The mixer has no moving parts but instead uses the flow energy of the media to do the mixing. Diameters are from 3 mm to several m, and material can be either steel (inox, carbon steel, high-grade metals) or plastic (PTFE, PP, PE, PVC).
Borosilicate Glass components
Borosilicate Glass pipings
Borosilicate Glass valves
Read more about BURSTING DISC products
Read more about COMPONENTS products
Read more about SAFETY DEVICE products
Read more about SINGLE-USE, LIQUID products
If you have any questions please don`t hesitate to contact Thurne specialist directly: