Thurne successfully supplies Fermion's Oulu plant with high containment powder handling line for highly potent API production
September 18, 2023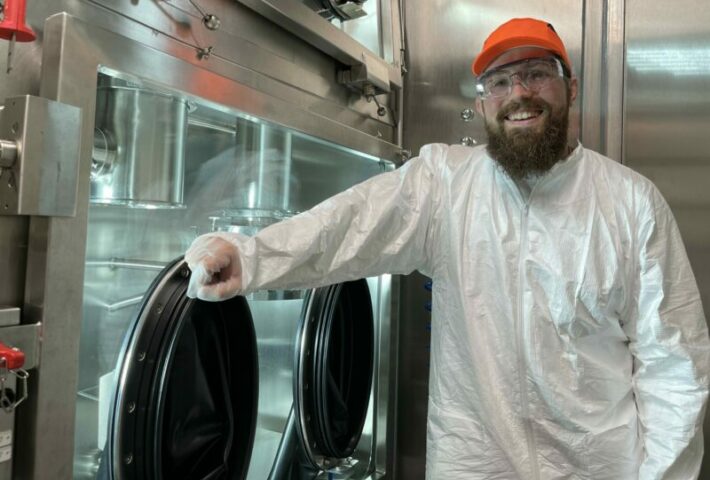 When Fermion wanted to replace a vacuum dryer with one flexible high containment API unit it turned to Thurne to propose an integrated solution. "By doing so, we gained good partners who took responsibility for our mutual success while still leaving us, as the customer, in total control," explains Fermion's project manager Ilari Peuraniemi.
Fermion is a Finnish company that develops, manufactures, and markets active pharmaceutical ingredients (APIs) which go into other pharma companies' products. The group has two commercial production sites at Hanko and Oulu in Finland, and at the Oulu plant the focus is on production of cyto-toxic cancer and other high potency drugs on a relatively small scale in batches up to a few hundred kilos. When making these highly potent APIs, the need for safe and secure containment of the ingredients and the products themselves is extremely important to avoid exposure of the workers.
Recently the company decided it made sense to replace an older vacuum dryer with a modern, flexible highly secure vacuum dryer. It therefore scanned the market for possible solutions and suppliers.
Eventually it decided that Thurne offered the best combination of high-quality equipment and extensive experience in integrating the components from various suppliers, while working in close cooperation with Fermion. In this way, Fermion was confident that it could achieve its key goal of meeting the task-based containment performance target (CPT) of 0.2 µg/m3 for the APIs.
 "We knew we needed to be careful about trusting a supplier to deliver an integrated solution that would fully meet our requirements and also allow us to maintain full control in case of any need for modifications," comments Ilari Peuraniemi, project manager from Fermion`s technical operations.
"Our experience on this project with Thurne has been excellent, with the key Thurne project managers taking full responsibility for good cooperation and our satisfaction as the customer," explains Ilari Peuraniemi. "It's a delicate balance that needs to be reached when you essentially outsource the responsibility for integration but still want to be fully confident that the result will meet your strict requirements for containment security and production capabilities."
High containment performance target
With a target to reach a containment level of under 0.2 µg/m3, using the more difficult 'task-based' calculation rather than the 8 hour time weighted average, Fermion realized of course that every component in the integrated line was crucially important. The Thurne team, working closely with Fermion, proposed a solution consisting of the following equipment represented by Thurne:
Lugaia CLS continuous liner system
Lugaia SafeSeal Closure System
The integrated new line began operating at Fermion in November of 2022. Site acceptance tests were carried out which verified that the working hygienic conditions were met and that the 0.2 µg/m3 CPT goal was reached. Following this Fermion brought the new vacuum dryer line into production.
Thurne meant quality to us
"The main reasons for our choice of Thurne to supply this equipment were quality and quality. It's that simple. As a highly potent API provider, we require high quality equipment to produce the best quality ingredients for our customers. We are happy to say that after conducting thorough working hygienic testing, we reached our goal of 0.2 µg/m3 using the task-based measurement method," concludes Ilari Peuraniemi.