Join our open seminar: Stop human trafficking in Africa! 24/2 at 15:00
February 15, 2016

Welcome to our "Make Tomorrow Today" seminar with the topic:
STOP HUMAN TRAFFICKING in Africa!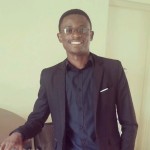 Meet "Not For Sale Ale" head ambassador Raymond Kagumire from Uganda and join him on his journey from the first contact with the NotForSale organization to his fight to stop human trafficking in Africa. Learn about challenges, success and failures in his attempt to spread engagement.
15:00 Welcome & Coffee
15:30 Lecture
17:00 Discussion & Socializing