Thurne invites you to The Separation Days
March 09, 2020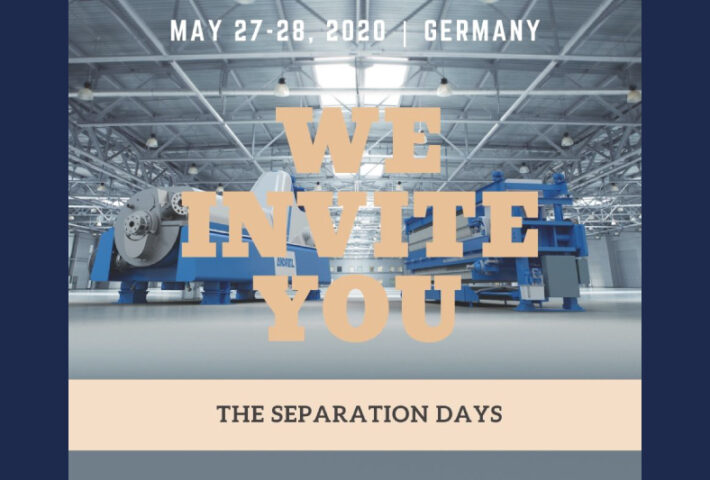 THE SEPARATION DAYS
May 27 and 28, 2020
Krefeld, Germany
THURNE in cooperation with our partner, ANDRITZ SEPARATION GmbH invites you to THE SEPARATION DAYS.
Find out all the news about decanter centrifuges and filter presses. An interesting agenda has been created, and you can decide whether you want to attend for one day or two.
Day 1 is all about decanter centrifuges. It will start with the presentations of the latest developments in R&D, automation and the service centers of Andritz. In the afternoon, we offer you the opportunity to get to know the 3,500 m² service and repair center during a guided tour. Afterward, you can explore other areas in smaller workshops. The day will end with dinner on site.
Day 2, the filter presses will be the center of attention. Here you will gain an insight into the product portfolio of Andritz when the latest product development will be introduced. The filter press cloth laboratory will open its doors to your attendance and provide an opportunity to experience the filter press "live".
If you are attending only on day 2, you can also take part in a guided tour through the service and repair center for decanter centrifuges after lunch.
---
Venue
ANDRITZ SEPARATION GmbH
Eduard-Küsters-Straße 1,
47805 Krefeld, Germany.
---
Agenda
Here you can find detailed Agenda.
---
Registration form
For your inquiry please use our registration form. The responsible department will contact you.
---
Contact us
If any questions arise regarding this event, please contact your THURNE specialist:
Roba Rudenå (for Sweden, Norway and Denmark)
Mobile: +46 764664018
E-mail: [email protected]
Rolf Sundström (for Finland)
Mobile: +358 45 110 2337
E-mail: [email protected]
Andris Putniņš (for Baltic)
Mobile: +371 2689 6799
E-mail: [email protected]