Martin Evers becomes the CEO of Thurne
January 17, 2020

Thurne's Board of Directors has appointed Martin Evers as the CEO of Thurne as of January 7th, 2020.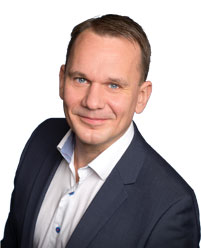 Prior to joining Thurne, Martin worked at Algol Technics Oy, a leading technical sales company in Finland where he had been Managing Director, since 2016. Before Algol Technics, Martin served in various senior sales and management roles in ABB, a global automation technology company within utility, industry, transportation and infrastructure.
The current CEO, Ulf Stenerhag, will continue working in the company. Ulf will focus full time on leading the Thurne's business development activities to ensure the Company meets the growth ambition as set out by the Board of Directors. This includes any acquisition activities and new market development.
"I am excited and happy to have Martin joining the company. His international expertise and management skills are a great fit to Thurne's culture. Our ambition is to grow and expand our business to the next level together with our current suppliers and partners and with the support of Addtech. We have since a long time had a strong focus on geographical expansion and I can now put full attention to this strategic work" says Ulf.
Martin comments "I am very excited to take on the role as CEO after Ulf and I am happy that Ulf continues working in the company. The Team has built Thurne to a fantastic company of professionals that provides strong solutions and that are well-positioned in all the markets. I am very enthusiastic to roll up my sleeves and start working with the team on the next phase of our growth journey."
---
For more information:
Martin Evers, CEO, [email protected], +358 401835870
Agnija Brieze, Marketing Manager, [email protected], +371 29111143